Titanium Plates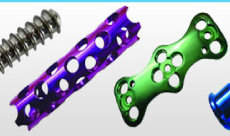 Welcome to Ortho Surgical Company
Ortho Surgical Company was established with a vision to become an Indigenous Manufacture, Exporter & Supplier of a wide verity of Orthopedic Implants Orthopedic Instruments, including Trauma and Instruments & External Fixators that measure up to high Standards of Quality.
Locking Compression Plates

Locking Proximal Humerus Plate for 3.5 mm Screws

Locking Distal Tibial Buttress Plate for 3.5 / 5.0 mm Screws

Locking Metaphyseal Plate for 3.5 / 5.0 mm Screws

Intramedullary Locking Nails (Femur)

Intramedullary Locking Nails (Tibia)

Supracondylar Nails with Five Holes
Cheer Among Doctors & Patients.
The city's doctors are smiling. Now screws, interlocking nails, wires, bone plates and other orthopaedic implants have been exempted from import duty which has brought a lot of cheer among surgeons and patients.