Titanium Plates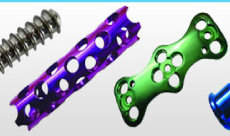 About Us
Ortho Surgical Company was established with a vision to become an indigenous manufacture & nationwide Supplier of a wide verity of Orthopaedic implants & Orthopaedic instruments, including trauma and rehabilitative appliance that measure up to high standards of quality. Under the astute business acumen of Mr. Vinod Arya, the company has grown many leaps forwards to fulfill the requirement of the medical professional and suffering patients the motivation of Mr Arya and the dedication of the company`s professionals accelerated Ortho Surgical Company to Become one of the prime manufacturers of orthopedic implants and instruments along with other ortho, appliance in the country.

Because of the stringent quality measures adopted by the company, our products got self-introduced in the export marketing in a big way. The growing demand for our products in the international market inspired us to open a separate export wing in the name of M/S arya interprises, which is headed by Mr. Pankaj Arya.
Quality:
Quality has been the hallmark of success for the company. It manufactures implants made of 316 & 316l grade stainless steel as per BIS specification. All products marketed by the company undergo rigorous quality surveillance. The company has been keenly observing new trend of the international markets and is regularly updating it self regarding new technologies. Now, the company is able to compete in local, as well as international markets and has confidently consolidated its position in the business
Quality Control Checks :
Quality control checks ate conducted in-house as a routine, but periodic testing through independent test house are also carried out at a Shri Ram instate for industrial research and metallurgical laboratory services an sales.
Methods Stops Involved In Quality Control :
Raw material used :
The raw material of all products are tested for chemical composition and sample piece tested for physical properties
In House Process And Finished Good Testing:
Calibrated plugs, Ring Gauges and Thread Gauges are used for inspection of standard implants & instruments. Standard vernier calipers, Micro Meters, bone gauges, surface tester are used for inspection of custom made implants.
Sterilization:
before supplying to the costumers, final sterilization with gamma irradiation of implants is done at Shri Ram institute of industrial Research.
Research & Development:
The company used the state-of-the-art machinery for its Research And Development Department of the company is working continuously to provide superior quality instrument & implants at economical prices to meet the ever increasing requirements of the medical profession.
Clients:
The company caters to an established clientele in the domestic and international market through its extensive marketing network. At present we are exporting our products to Singapore, Australia, south America, Bangladesh and Nepal. All our clients are satisfied with us, as a result of which we are getting repeated orders. It has trained service personnel, who provide demonstration and technical for fixing different implants and appliances. Distributors of the company are strategically located to reach all corners of the world. Apart from sale effected through dealers , the company is directly catering to institutional customers in India and across the globe.